14 Best Scrubs Episodes [International Nurses Day Celebration]
Since Disney + added the Star network I have been binging some old content. One show that instantly got added to my list was Scrubs. I remember watching the series when I was younger and finding it seamlessly funny and heartfelt, no easy things to balance in episodes that are just over 20 minutes long. The cast are incredible, with a mix of varied characters and excellent performances across the board. This year marks 20 years since the show premiered, it ran for 9 seasons (although the last one doesn't really count in my opinion) and managed to maintain it's humour and quality over the years. 
Based around the lives of the staff at Sacred Heart hospital the show follows intern JD through his years in medicine alongside his friends Turk, Elliot and Carla and under the mentorship of Dr Cox. With its outlandish and fantastical humour, heartbreaking moments of real tragedy and strong messages about growing as a person it's no surprise that Scrubs was such a hit. Like many 2000'a shows Scrubs does have some problematic story lines but it's heart was most often in the right place. To celebrate International Nurses Day I want to look back at this Medical Comedy and some of its best episodes.  
My First Day (S1E1)
It all starts with a pilot episode. A first episode is important to a show, it has to set everything up, establish characters that an audience wants to spend time with and set up the tone of the show. 'My First Day' manages to excellently achieve this, setting up JD as a lovable goof with a tendency towards fantasies and fully showing the mad rush that is hospital life. Sacred Heart and it's core cast all get solid introductions, from friendships, to love interests, to a long running bitter rivalry. It was easy to get hooked from the very beginning. 
My Musical (S6E6)
I'm a sucker for a musical episode, Buffy the Vampire Slayer, Pushing Daisies and Community all managed to nail it and so did Scrubs with it's Season 6 episode 'My Musical'. When a woman collapses in the park near JD and Elliot her world becomes a technicolour musical with everyone around her becoming involved in the all singing all dancing show numbers. There are some hilarious songs from 'Everything Comes Down to Poo', 'Guy Love' and 'For the Last Time, I'm Dominican' that range from silly fun to exploring the relationships of the show. It's not just a filler episode, it deals with JD and Elliot's living arrangements and Carla's struggles as a new mum, all wrapped in lyrical snippets. 
My Half Acre (S5E9)
This is definitely an episode where the B-Plot was on fire. JD gets set up on a blind date with a patient's niece who is the ultimate Rom-Com girl, cute, sweet and klutzy, making her utterly accessible. His date, Julie, is great for him but he rushes things and buys a half-acre with her before they've even had a third date. Dr Cox is struggling with showing affection to his son, and a Jehovah Witness patient doesn't want a blood transfusion. Where this episode really shines though is with Turk as he joins an 'air band' with the Janitor, Ted and Lloyd. I would watch a super cut of these misfits rocking out on imaginary instruments and bringing incredible stage presence to a non-existent stage. 
My Cake (S4E6)
Cake is usually a symbol of celebration and achievement but in the Dorian household it is an omen of something terrible. When JD opens the door to find his brother, Dan, holding a fudge cake he knows there's bad news, in this case it's the fact that their father has died. Dan offers to be there for JD but ends up being the one needing to be cared for. There's some great moments between JD, Dan and Dr Cox that stay true to their relationship and explore what someone in grief really needs. JD and Dan's father, Sam Dorian, was played by the incredible and hilarious John Ritter, who sadly passed away in 2003. This episode was written in his memory and is a sweet and emotional tribute to a wonderful man. 
My Long Goodbye (S6E15)
In the episode prior to this long-time fan favourite Laverne was in a car accident that left her in a non-responsive coma. Everyone begins to say their goodbyes but Carla is determined that her close friend and mentor will pull through and this causes her to manifest a version of Laverne who follows her around the hospital for comfort. Similar to 'My Cake' this episode is about grief and how it affects people differently, some turn to human comfort, some to making a change and some to living in the moment. The real heart of this episode comes from Carla's connection to Laverne and her earnest and loving goodbye. 
My Life in Four Cameras (S4E17)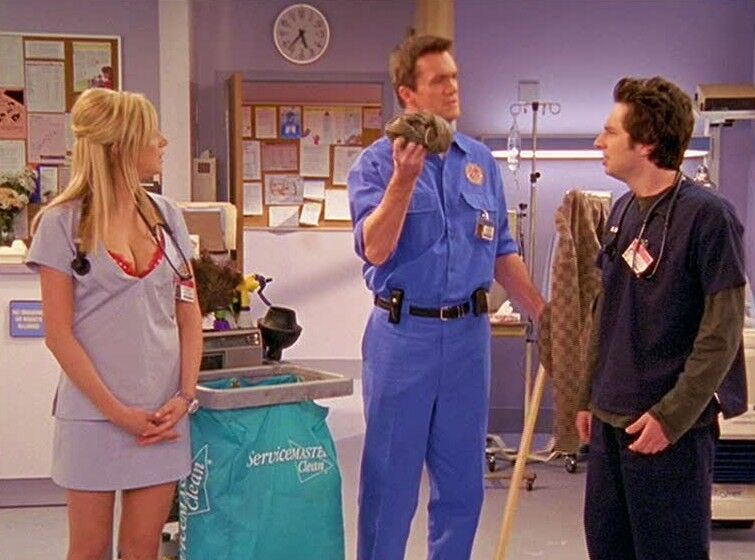 The concept of imagining your life as a sitcom is very much in pop culture right now, looking at you WandaVision, but it has been around for a while. From the Supernatural episode 'Changing Channels' to this episode of Scrubs it's fun to play with the medium and all the tropes and conventions that come with it. When an e-coli breakout is announced on the news the staff of Sacred Heart know they are in for one hell of a day. Amongst the panickers and hypochondriacs is one of JD's favourite TV writers which leads to JD fantasising that he is in a sitcom. The lights get brighter, the outfits get tighter and the laugh track booms over everything. Plus there's a talent show that makes the main cast do ridiculous things which makes this episode a winner in my books. 
My Way Home (S5E7)
Of course an episode of Scrubs inspired by the technicolour classic The Wizard of Oz was going to make this list! It's JD's first day off in weeks and he just wants to enjoy some of life's simple pleasures, like a nice soak in a bubble bath, but he keeps getting paged by his interns. The only thing lighting his way home is the yellow painted lines on the hospital floor that points to all the exits. Keeping with the theme of The Wizard of Oz each character needs something, Turk needs a heart for a dying patient, Carla needs the courage to be a mother and Elliot needs the brains to back up her claim of being an endocrinology expert. That's our Tin Man, Scarecrow and Cowardly Lion sorted, which means that JD is our Dorothy, just desperately trying to get home. 
My Old Lady (S1E4)
Plunging back into one of the early episodes of Season 1 reminds me that, unlike some well loved comedy shows, Scrubs really hit the ground running. The pilot episode being number 14 on the list just proves that, but another stand out is 'My Old Lady'. JD muses that statistically one out of every three patients will die in the Hospital and just like that we follow the split narrative of Elliot's patient Mrs Guerreo, Turk's patient David Morrison and JD's patient Mrs Tanner, played by the wonderful Kathryn Joosten. The fantasy sequences are hilarious, including Mrs Tanner's Shawshank Redemption escape, but it's the sentiment that really hits. Working in this profession death is a part of the routine. It's also great to see the bond beginning to form between Carla and Elliot, two of the main female characters of the show. 
My Occurrence (S1E22)
'My Occurrence' is the introductory episode of one of the best supporting characters of the entire series, Ben Sullivan. Played by the ever stunning and charismatic Brendan Fraser. Ben is Dr Cox's best friend and Jordan's brother, he's in the hospital after nailing his hand to a piece of wood but issues arise when later on at boys night he still hasn't stopped bleeding. There's also the re-introduction of Jill Tracey, the hyperactive and, to some, annoying patient who Elliot has a good connection to. The episode progresses with multiple mistakes happening, Turk almost removes the testicle of the wrong patient, Jill is falsely told she's pregnant, so when Ben's results aren't good JD hopes it's just another mistake. It's part one of a two parter so of course next on my list is…
My Hero (S1E23)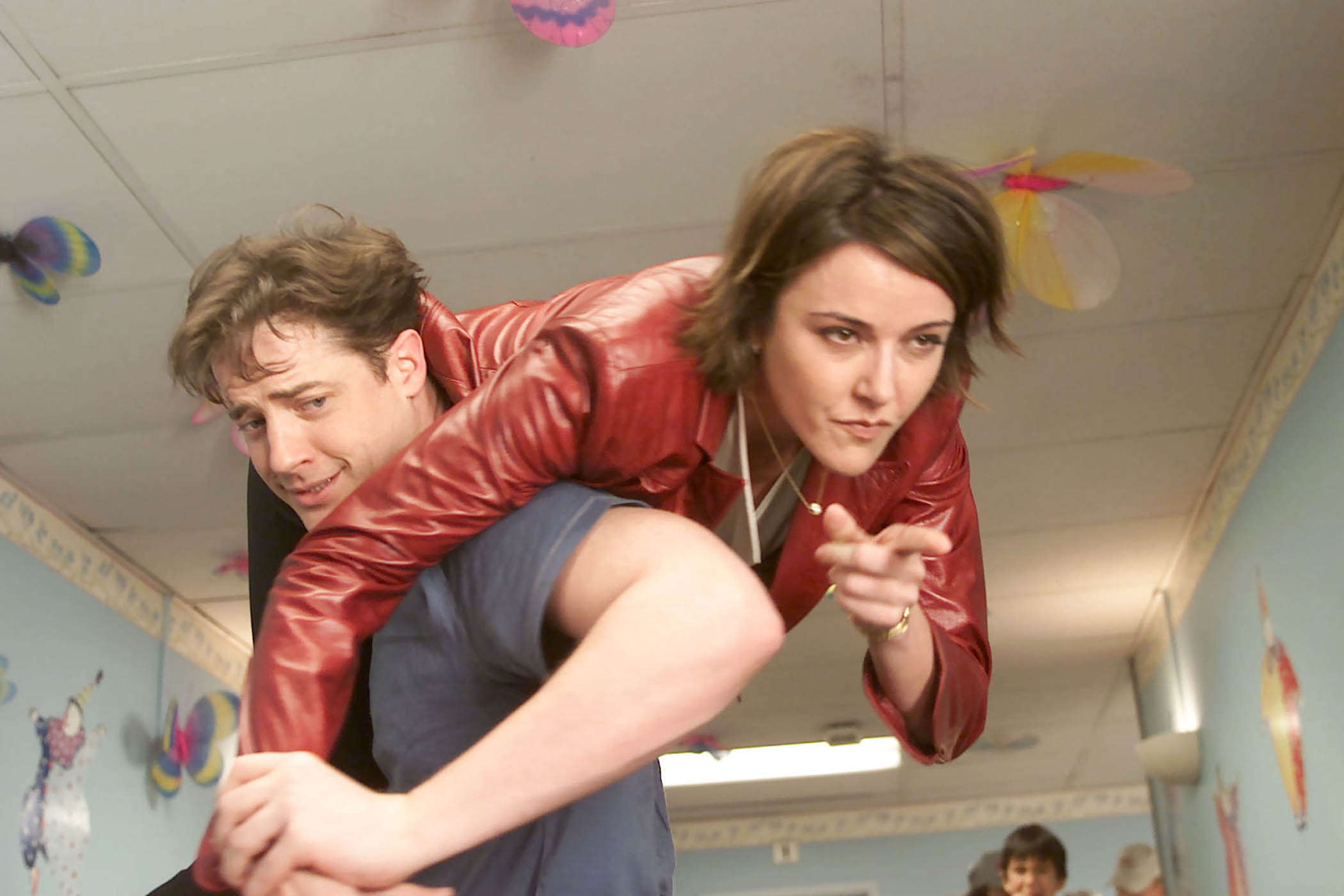 'My Hero' is the second part of the Ben Sullivan saga. After finally getting his diagnosis of leukemia Ben is keeping himself peppy and as joyous as ever, determined to beat it and just needing his friends there to support him. His camera is still with him, grabbing candids of the residents and staff supporting him, snapping a particularly good looking one of a mid 'eagle' Jordan. It's a sweet episode that reminds us that hero worship isn't always a good thing and breaks down Dr Cox's hard exterior to reveal the true fear of losing a friend and feeling helpless. There's a happy ending overall which isn't always a given in this series. 
My Lunch (S5E20)
In another heartbreaking episode we see the return of series regular Jill Tracey. JD and Dr Cox run into Jill whilst at a supermarket and try their best to avoid her offers to grab some lunch. Of course she's overenthusiastic, talkative and an oversharer, but she's also in trouble and needs a friend. It's an absolute punch in the gut episode as the lives of three patients in desperate need of an organ transplant hang in the balance, whilst JD wrestles with his guilt at Jill's death. Watching how hard each character takes the passing of their patients is devastating and it's even harder to watch the utter fall of Dr Cox that soon follows leading into the next episode. 
My Fallen Idol (S5E21)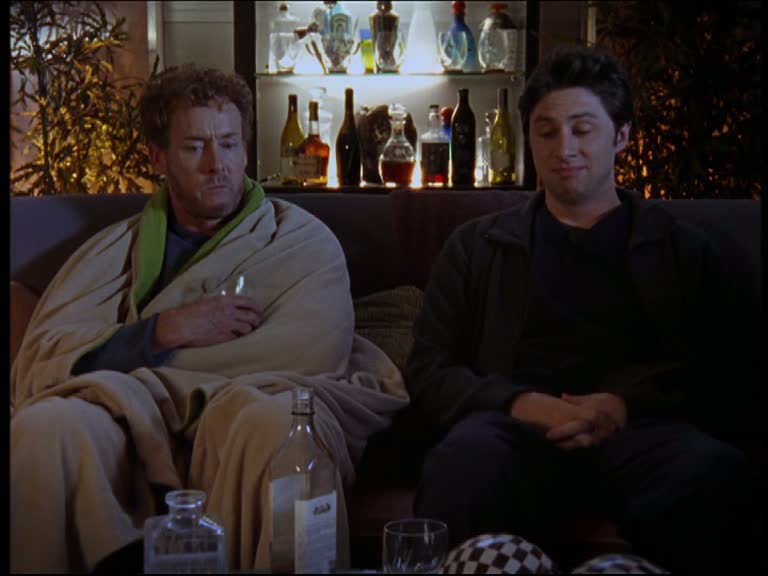 After the devastation of the previous episode Dr Cox has taken a turn and now lives underneath a blanket with a permanent glass of scotch in his hands. It's a testament to the writing and plotting of the show that the issues faced prior to this episode are dealt with and not just wiped out when the credits roll. Dr Cox has to take a leave of absence after being caught treating a patient whilst drunk. It's shocking to see how far such a strong figure has fallen and the tragedy that brought him to his knees. As each of the gang tries to comfort him he seems to just fall deeper and deeper into his spiral. The ending leaves us with a smile and it's totally earned. 
My Finale (S8E18/19)
Just like beginnings, endings can also be hard to stick the landing on. There's numerous lists of series finales that let fans down immensely and leave such a bad taste it can almost ruin a rewatch. Scrubs manages not to fall victim to this pitfall and lands the finale excellently. Of course, I am ignoring Season ( because, well, I think we all kind of should, so this is the true ending of the original series. This two part ending celebrates JD's last day at Sacred Heart and revels in the amazing memories of his last eight years. It's the happy ending that each of the main players deserve with a projection of the happiness still to come. An amazing ending to an incredible series. 
My Screw Up (S3E14)
We round off the list with a visit back to the ever underappreciated Brendan Fraser and his lovable character Ben. I debated whether to end on a happy note or on the episode that stuck with me the most, and I decided to go with the emotional heart kicker. It's Jack's first birthday so the family are in town for his party. Ben made such an impression in his two previous episodes that losing him was heartbreaking. Scrubs always knew how to plunge the knife, but this episode twists it as well. It's number one on my list because it's a beautiful and deep episode but that doesn't stop it from being one of the hardest to rewatch.